2007 FORD F550 DIESEL 44 FOOT REACH BUCKET TRUCK
Texas
$10,200.00
Certified check or wire only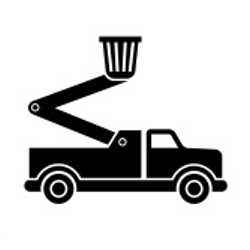 ---
Description
Up for your consideration is a 2007 Ford F550 extended reach diesel bucket truck. It has 4 wheel drive. The truck is right outside of Houston, Texas. Feel free to come and take a look at it! The reach is close to 44.5 feet. The mileage is right at 222,200 miles. The AC Blows out cold. The heater works great. The truck runs good. All of the tires are in good shape except for one. I can send pictures if so requested. There is a good Michelin spare tire that you can change out. It comes with the ladder as shown in the picture.

LOCAL PICKUP ONLY! NO SHIPPING! All of the lower and upper controls work great. There are no leaks from the engine. The transmission got replaced around Christmas time roughly 6,000 miles ago. It has a three year warranty 36,000 miles from Napa, which they told me it is transferable. The boom itself has around a 38 foot reach and the platform it on adds around another 6 feet. Cashiers check or a wire transfer. These are the only forms of payment accepted.

There are some signs of usage. Look at all of the picture closely. It is and has been a work truck. The right rear addition rear bumper of the truck has a dent in it, which the picture shows. The protective cover for the boom bucket has a dent in it also, which is also shown in the pictures. The bucket itself has no damage, just the outer cover of it. The bucket has no door. This is the one you must lift you body in and out of. Expect some wear and tear, but overall the truck is good. There is one very small hydraulic leak. I believe it is coming from a part that Versalift replaced when I was working in a different state, before driving it back and putting it in storage They charged around $800 for the fix, but it seems to be the same leak.
---
Contact
x x x x Canceled/Expired Listing x x x x
---