Excellent Condition 2000 Ford E350 Bucket Van
Arizona
$12,000.00
Payment: Cash or PayPal Delivery: Buyers responsible for delivery or pick-up. Truck is sold as is. No warranty.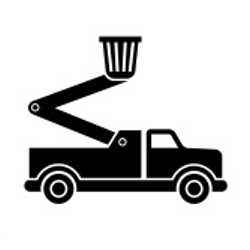 ---
Description
Excellent Condition! Well kept 2000 Ford E350 Super Duty Bucket Van. Only 126k miles. New: PS pump & steering box, front bushings, PB booster & master cylinder, A/C compressor, dryer & lines, Tires, Brake Pads, Ignition switch, Door Hinges, Coil Packs, Plugs, Flashing beacons up front and in rear. This is all new! Recently changed oil. Versalift Boom, Inverter, Full Bin package, full security screens, 25' chord remote for boom, Newer Paint job, Completely just been cleaned, waxed, and buffed out.Recent registration and passing Arizona strict emissions testing. This truck is ready for work. Here is all that it needs: Windshield has a low crack, not obstructing view, and needs a new blend door actuator for A/C as it works, but volume isn't where it should be. This is a 60.00 part under dash. This is a great running smooth as glass running truck. I am retiring and need to sell. I also have for an additional 4k, test equipment for any technician, with all tools as well for Catv splicing, and troubleshooting, telephone tools and test equipment, fiber optic tools and test equipment. Examples of test equipment: JDSU DSAM 3600 upgradable with all options, Telephone test set, Sidekick, Miller fiber optic tools, Exfo test set. The tool list is long, and can provide the extensive list, but anyone wanting to get a good jump in contracting, This is the setup! The truck is 12000.00, the tools and test equipment is 4000.00. I am firm with the pricing as this complete setup, is ready to roll. So for 16000.00 you can literally jump in, and be proud of this much presentable Bucket Van
DELIVERY IS THE RESPONSIBILITY OF THE BUYER!
---
Contact
x x x x Canceled/Expired Listing x x x x
---