92 International IHC 4700LP 37' Bucket Boom Truck
Washington
$7,950.00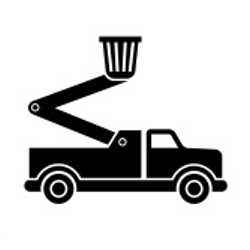 ---
Description
1992 International IHC 4700LP 37' Bucket Boom Utility Van Lamplighter LOW MILES!

Year: 1992
Make: International
Model: 4700lp
Class: Class 6 (19,501-26,000 lbs.)
Mileage: 59,318
Vehicle Title: Clear
Number of Axles: Single
Fuel Type: Diesel
Transmission Type: Automatic
Transmission Speeds: 4 Speed
Tire Size: 22.5"
Suspension Type: Spring
Make: Inter Model: 470
Style: CC Series
Body: 4000BVan
Scale Weight: 18400
Gross Weight: 20000
Class: Class 6

Engine: DTA360, 4 Speed Auto 22.5"
Tires. New rear driver side Double Coin tires. All other tires at 85% Reach All Bucket Boom LM3203: 37', Single Man Bucket, Telescopic, 350lb Capacity

Blue Tooth Connectivity/Hands Free in Work Area. State of the art Stereo!

Full stand up work area: 12V to 110V Inverter - 2400W constant duty/6000W startup. Generator: 3000W Wireless Electric Start, 110v x 12v battery charger 20amp; starter batteries are isolated from house battery

Recent upgrades: new suspension, new rear drum brakes, bearings, new air brake cannister.
---
Contact
x x x x Canceled/Expired Listing x x x x
---